Bob Marley 2 1/2" Double Barrel Metal Pipe with Caps 1 3 6 12 pieces lot MP1045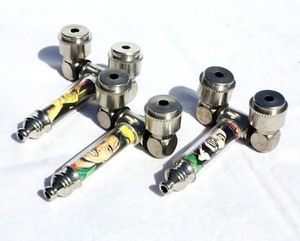 ---
This clever design features two barrels with removable caps and features images of Bob Marley
Pipe is 2 1/2" long. The opening for the metal mesh filters is 5/8" diameter.
Pipe weighs 1.7 oz.
Pipe can be completely disassembled for easy cleaning.
We recommend you use this pipe with Daisy or Honeycomb glass screens.
This pipe is available in a variety of designs.
NOTE: Each pipe will be chosen completely at random and there are several designs available.
You may request a specific design in the comments section at checkout but choice cannot be guaranteed.
PAYPAL ONLY
SHIPS 2-3 DAYS